Six Considerations For Successful Business Partnering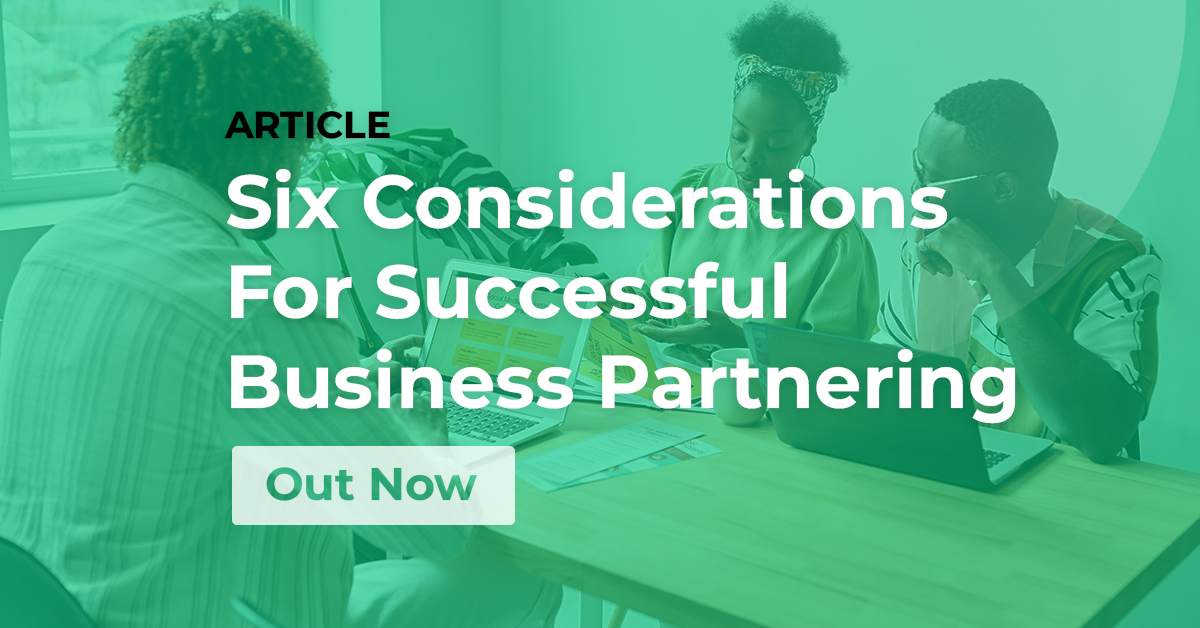 Written by Carlo Tortora brayda di Belvedere - CEO Gorilla Corporation
Orignially posted to Forbes

You may have noticed the mast head on your way here, it's a message that permeates everything we, as a channel company, do and our way of thinking, Powering Partnerships. We've been doing it for over 2 decades and everything we do is geared towards it, from partner recruitment to sales and support, we personify and promote partnerships.

Have you been thinking about business partners? So are many people in the technology space — and various other industries. Having a varied and thriving partner ecosystem is a fantastic way to diversify, gain ground and ultimately ensure successes in your industry. To begin you'll need an air tight partnership strategy and to know you have the fundamental difference-makers under control. To that end, here are six smart things to do to help outline your strategy and begin to ensure your partnerships success.
Think about the role of your partner and visualize mutual success.
If you are an early-stage startup, you may want to ensure you can really sell your product yourself before getting others to sell it for you; direct sales at the very beginning of your venture to establish a channel is critical. Common reasons for wanting a channel partner are scalability and the power of their influence. It might be that a partner is needed either to implement your solution or to add value to it through consulting services. Make sure you consider what kind of partners would be useful to further your objectives — and in what way. Think about partner support points through the customer's buying journey. This is often overlooked. 
There are three categories of partners: 
Awareness And Research Partners: Advocates, consultants and analysts can turn out to be vital partners by endorsing or specifying your product. This type of partner might not want to be incentivized financially for conflict of interest reasons, but they need to be catered to anyway. You can help them through information provision. Help them to be at the forefront of the industry, the top of their game, by knowing what innovations you can bring to the market.
Transaction Partners: These partners actually sell the product or service, through their websites or through their business-to-business salesforces. This category is incentivized through margins and creative reward programs. 
Implementation Partners: These partners will implement your product for the client and include training and consulting. They are mostly incentivized by having the chance of selling their services alongside your product. 
Once your partnership strategy includes the partners you need for your channel to be successful, you need to create your plan. Visualize it. How do you imagine people hearing about your product, buying your product and implementing your product? Partners can play a part in any and all of these stages of your customer buying process. What is your endgame? Visualize your goal and build a plan to get there. 
Partnerships work if they are driven; don't leave it to chance.
Work out your channel partner goals. Relationships have to be driven and, therefore, need a goal. Break that down into small steps. What needs to be achieved, when does it need to be achieved, and what are the dependencies? Every outcome has a series of precedents that need to be fulfilled. Like a complex conveyor belt in a factory, there will be multiple steps to shape your plan and partners before reaching the final outcome. Plan collaboratively with your partners for that. It might mean creating joint assets, a joint website or a collaborative landing page or designing your sales lead waterfall. Set goals for each step on the way and follow through each step to success with your partner. Measure everything. 
Have a realistic sales plan and assign territory to your partners.
Consider your total addressable market and your realistic market share. How much of that could or should be achieved through partners? Needless to say, this is one of the most pivotal moments in the development of your partner strategy. Split that number in every conceivable way. Split it geographically, by vertical and horizontal market segments. By splitting it into many small chunks you end up having realistic bite-size pieces that you can assign to each specific partner. This can help to avoid channel conflict whereby partners fight for the same opportunity.
Resource adequately, automate intelligently and keep the business human. 
Resource your sales plan and your partner channel. To succeed, you must have a competent and committed support structure. It takes money to make money. Remember partnering is a relationship — it is deeply human. Automation can and should help, but you cannot replace the person. Time and time again, partnerships work because of business synergy coupled with the power of personal relationships. We are human, we respond to friendship, we respond to the promise of mutual support and, ultimately, we draw pleasure out of pleasing each other and forming social bonds. It is for this reason that, despite the highest levels of automation today, vendors are also moving toward better coverage models. The Gorilla Marketing Concierge is a great example of this, providing the very best expert channel marketing knowledge and expertise, all backed by industry leading technologies and AI 
Define channel capacity and consider Pareto's Law. 
Let's say you want to achieve $10M in sales in any given year — and that each partner can drive $100,000 per annum. You would need 100 partners, right? Wrong. Most partners will not do as much as you'd hope. Typically, in my experience, up to 20% will perform well. The rest are there so that the active minority can exist. It's a bit like quantum mechanics; a particle exists when there is an observer to witness it! You need to plan ahead for many more partners to account for the inefficiency of the majority. Of course, good coverage and smart partner management can improve the Pareto ratio substantially, but the fundamental concept is inescapable. 
Listen, communicate and deliver.  
Are you a good listener? If not, today is the day you can change that! Remember that a partnership is a two-way relationship, and both sides need to listen and hear each other out. I cannot stress enough how important the spirit caring for one another and of equality is in all this. It doesn't matter if you work for a large multinational corporation and your partner is a small business; you must meet on the same level. Next, you need to show that you have their back and that you are capable of looking at the business relationship from their standpoint. Set up a business plan with them at the outset and have a keen eye to deliver on their needs as much, if not more than, having them delivering your needs. Trust in human nature and the spirit of reciprocity; it is a huge motivator and makes for a better society. 
Partners are a powerful addition to your organization and to your channel. When chosen well and nurtured properly, you will see significant growth and return for yourself and them. Need any help with your channel, starting, growing or building a partner program and ecosystem? We can help, get in touch today.
Related articles